A thrilling 2.5-hour adventure through the treetops!
Zip tree to tree on an exciting, 2.5-hour family-friendly zipline tour through the beautiful Vermilion River Valley in Oberlin, Ohio with Common Ground Canopy Tours!
Take in the incredible views while enjoying 7 ziplines, 2 spiral staircases, 2 aerial bridges, 1 unique floating staircase, and a final rappel at the end.
Save 15% on e-gift cards now through December 24 when you use code Jingle23 at check out.
Canopy Tour Overview
2,500 – 2,500 feet of flight total
75 – The highest point reaches 75 feet above the Vermilion River
850 – Our longest zip is 850 feet
Quick Facts:
Your zipline adventure will last about 2.5 hours and you'll have two tour guides with you throughout the tour.
Ages 10 and up and between 70 and 250 pounds are welcome. Ages 16 and under must be accompanied by an adult.
Weekday Rates: Adults (Ages 18+): $89, Youth (ages 10-17): $79
Weekend Rates: Adults (ages 18+): $94; Youth (ages 10-17) $84
Group pricing (8 or more) and military discounts are available by calling 440-707-2044
Our zipline tour qualifies for ACE Funds as Common Ground is an approved service provider.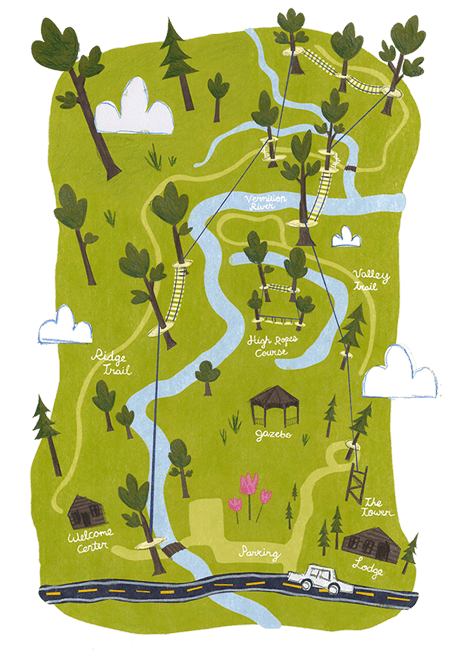 Attention Teachers!
We offer awesome STEM-based education incorporating our zipline tour!
Canopy Tours FAQ
What is a Canopy Tour?
Our Canopy Tour is a guided zipline tour where participants travel from tree platform to tree platform across seven ziplines. Our course features ziplines, aerial bridges, spiral staircases, a floating staircase and a rappel to bring you back to the ground after about 2.5 hours in the air!
Are there age or weight restrictions?
Participants must be 10 years of age or older. The weight requirement is between 70 and 250 pounds. This restriction primarily has to do with speed, as participants under 70 lbs won't make it all the way across each zip, and customers over 250 will build up extra momentum.
How long will the tour take?
The tour takes approximately 2.5 hours to complete, But before zipping, we'll teach you everything you need to know in "ground school." This takes about 30 minutes, so plan to spend about 3 hours with us.
Do I need a reservation?
Yes, otherwise we can't guarantee a place for you on a tour! You can make reservations here or call us at 440-707-2044.
What is the cancellation policy?
Cancellations made at least 7 days in advance of a tour date will receive a refund, less a $10 per person cancellation fee. Cancellations made less than 7 days in advance will not receive a refund.
We can reschedule your tour one time at least 2 days in advance of your scheduled tour date.
We ask participants to arrive 30 minutes prior to your tour time to ensure time for checking in, reading and signing waivers, and using the restroom. We will not ask other guests on a tour to wait for a late arrival, so if there are open spots on another tour later in the day, we may be able to accommodate you.
If Common Ground is forced to cancel a tour due to weather or other unforeseeable conditions, we will provide a choice between rescheduling for another available time, a gift card to use for a future date, or a refund.
Reservations and gift cards are transferable, so you may allow another individual to participate in your place.
No refunds will be issued if participants:
-Arrive late or don't show up for your scheduled adventure.
-Are denied access for failure to meet screening or participation requirements (see FAQs).
-Choose to depart the course early.
-Are removed from the course for their inability to follow instructions or participate safely.
-Cancel a reservation less than a week in advance
Do I handle my own equipment?
Our trained and professionally verified guides will be with you the entire time, making sure that you remain properly geared-up and that you remain securely tethered for the whole tour!
I'm afraid of heights. Is this for me?
It's a good thing to have a healthy respect for heights! Our guides are experienced in coaching cautious guests through the course and some of our favorite tours have been spent helping people overcome their fears. Also, remember that if you decide it's not for you, we can get you back to the ground anywhere on our course!
Can I watch my friends/family zipline if I don't want to participate?
Yes, we have trails on the ground that lead to our tree platforms, and we're happy to provide you with a map at our Welcome Center desk.
What should I wear?
Dress for the weather! That might mean a raincoat, winter jacket, or shorts and a t-shirt. Remember that you'll be wearing a full-body harness. Harness webbing can be uncomfortable against bare skin, so avoid short shorts or tank tops. Also, wear close-toed, close-heeled shoes, such as tennis shoes. You'll be on your feet for about 3.5 hours, so comfort and support is key!
Can I bring my GoPro?
You can bring a GoPro along with a strap to attach it securely to the helmet you will be wearing.
Can I bring my phone?
We invite you to unplug for a few hours and leave your phone in the Welcome Center or in your car. We've had participants lose phones on tour, slipping out of pockets. It really is refreshing to connect with your friends and loved ones without texts and notifications distracting you, and to take in the beauty of the forest, without filters or emojis! And if you're thinking about capturing your experience in photos, your guides will be taking photos throughout the tour, so there's no need to risk dropping your smartphone into a river!
Do you offer a group discount?
Yes! We offer 10% off for groups of 8 or more. Since our cap on tour size is 8, special arrangements need to be made to accommodate large groups. Give us a call at 440-707-2044.
Do kids need to be supervised?
Yes, children ages 10-15 must be accompanied by an adult.
Should I tip my guides?
Your hard-working guides would certainly appreciate it, so feel free to bring some cash to tip them after the tour! The industry standard is 10%.
Are there health restrictions?
The tour requires light-to-moderate physical activity, including climbing stairs, crossing bridges, and walking over uneven terrain. If you have further questions, we're happy to talk in detail about some of the physical requirements of the tour. If you are unsure whether you are able to participate, please consult a doctor.
Is it safe?
There are inherent risks in everything we do, from driving a car to ziplining. Our course was built according to industry standards developed by the Association for Challenge Course Technology (ACCT) and is inspected regularly by industry professionals. All guides have been trained and then verified through Project Adventure along ACCT guidelines.
The weather is calling for rain..what do I do?
We are rain or shine! Our canopy helps form a leaf umbrella over us that keeps off most of the rain, and on a hot day it can really help us cool off. Of course, we cannot zip with lightning storms nearby, high winds, or monsoon-level rain. If any weather requires us to cancel your tour, we will provide you with a raincheck to join us on a nicer day!